The Saigon Center Dental Clinic is a nearby dental clinic facility that is open every day, including Sundays. It has English-proficient staff and doctors, operates after hours, publicly displayed price list, and arranges appointment schedules according to patients' timelines without any additional charges.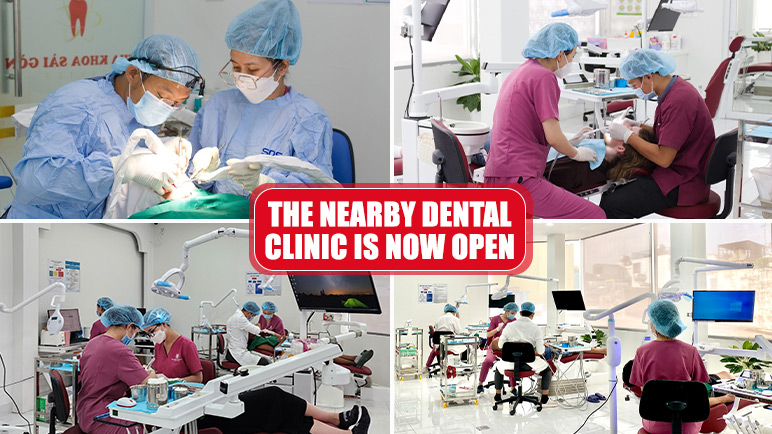 Nearby Dental Clinic Address
Saigon Center Dental Clinic – a highly esteemed dental clinic in the area, renowned for its reputation and professionalism in the field of dentistry and maxillofacial care.
Ranking as one of the leading reputable dental clinics in Ho Chi Minh City, we are licensed by the Department of Health. With a Google Review rating of 4.9/5 stars, we proudly hold the top position with a 5-star service rating on the globally respected healthcare platform: www.whatclinic.com.
Specializing in Maxillofacial Dentistry, Saigon Center Dental Clinic is located at 378B Vo Van Tan, Ward 5, District 3, HCMC. Situated in the heart of Ho Chi Minh City, near Turtle Lake, and in proximity to several well-equipped hotels, international patients can conveniently locate and reach the dental clinic using both personal and public transportation.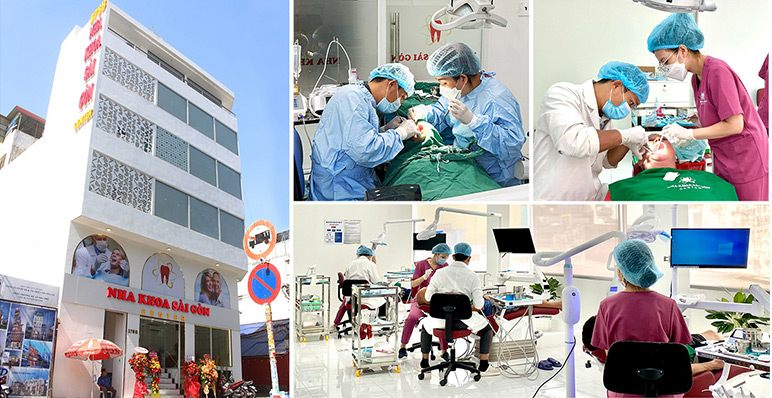 Contact Information
Operating Hours
The nearby dental clinic is open and operational throughout the entire week. We provide treatment services during our working hours: 8:00 AM – 6:00 PM. On Sundays, our working hours are from 8:00 AM – 4:00 PM.
We provide

online dental consultations

with renowned experts in the field of maxillofacial dentistry (completely free of charge).
Now, both local patients in HCMC and international patients visiting Vietnam can easily identify Saigon Center Dental Clinic as a convenient option with extended daily hours and flexible scheduling for dental treatment.

Patients can proactively book appointments that suit their timing and their stay in Vietnam through our PRIORITY APPOINTMENT booking channel via the hotline: (+84) 973-199-986 (Zalo, Whatsapp available) or via Email: saigoncenterdental@gmail.com.
Directions to Saigon Center Dental Clinic
| FROM THE CENTER | DISTANCE | MOTOBIKE | DIRECTION |
| --- | --- | --- | --- |
| New World Saigon Hotel | 1,4 km | 5 mins | Google Map |
| Indochine Ben Thanh Hotel & Apartments | 2,2 km | 9 mins | Google Map |
| Sheraton Hotel | 2,7 km | 10 mins | Google Map |
| The Luxe Hotel | 1,8 km | 8 mins | Google Map |
Dental Services
Saigon Center Dental Clinic offers a comprehensive range of dental services, from general dental check-ups to highly effective specialized treatments at extremely reasonable costs.
We provide customers with outstanding experiences, similar to receiving dental treatments in countries with advanced dental care systems: Gentle, safe, and painless dental procedures. Notable dental services at our clinic include:
Dental implantation is a high-precision treatment and a primary specialty at Saigon Center Dental Clinic. The outstanding feature of this service is the painless implantation technique, with each implant placed rapidly in just 5 minutes per implant, and immediate tooth restoration within 3 hours.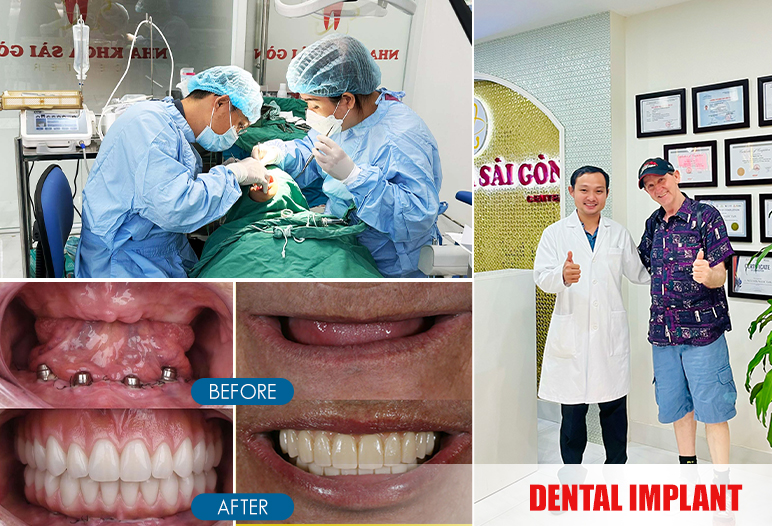 Of special note, our clinic is renowned for treating full-jaw tooth loss with the ALL ON X Straumann technique and the Zygoma Implant technique for patients with severe upper jaw bone loss.
We utilize premium imported materials from major nations such as the USA, UK, Germany, France, etc., with certified authenticity and long-term warranty policies. The implanted teeth last a lifetime, ensuring stable chewing and enduring aesthetic appeal.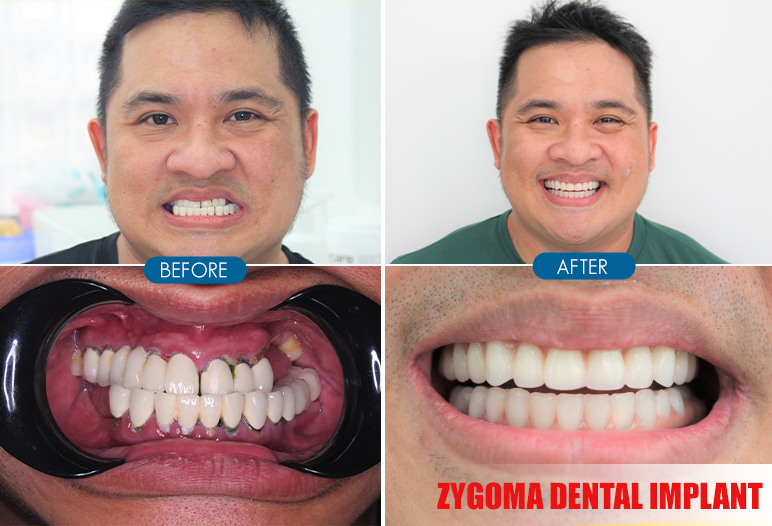 Implantation procedures at Saigon Center Dental Clinic are executed by a team of experts with 15 years of experience in advanced dental implantology. Notable among them is Dr. Nguyen Ngoc Tan, a distinguished dentist trained at the University of Medicine and Pharmacy, Ho Chi Minh City, and who has undertaken internships in Brazil.
Dr. Tan specializes in complex cases of severe bone loss, nerve repositioning, and elderly patients with compromised health, who have been turned away by other dental clinics. Each year, over 3000 local and international patients receive successful tooth restoration and rehabilitation from Dr. Tan.
Saigon Center Dental Clinic offers an array of premium porcelain crowns, currently in high demand. With a variety of colors to choose from, prices start at just $88. Our customers can enjoy a radiant and beautiful smile that lasts for up to 20 years. Hollywood Smile Design enhances tooth color, alignment, restores missing teeth, and increases aesthetic appeal to your smile.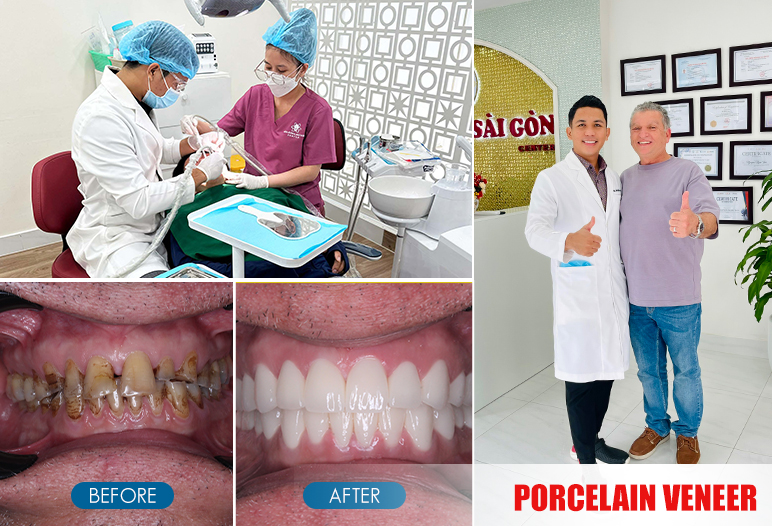 Dental Restoration
Our clinic performs dental restoration services for patients who have undergone dental implantation but have not yet received dental crowns or for those in need of replacement crowns. Techniques employed include full mouth restoration, full mouth reconstruction, and restoration of damaged porcelain crowns.
Exclusive 4.0 teeth whitening technology, completely painless and enamel-safe, brightens teeth by 3 shades in approximately 20 – 45 minutes in-chair. Moreover, customers receive FREE consultation, X-rays, tartar removal, complimentary take-home whitening trays, and whitening gel.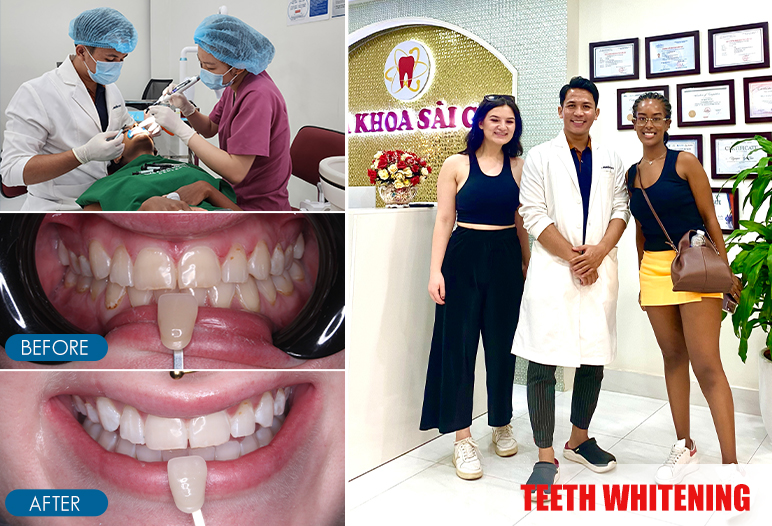 Saigon Center Dental Clinic provides a state-of-the-art transparent orthodontic solution using the latest 3S technology. This method reduces the overall treatment duration by 1/3 compared to traditional methods. Patients experience gentle orthodontic care, comfortable appliance wear, and lifelong maintenance of results.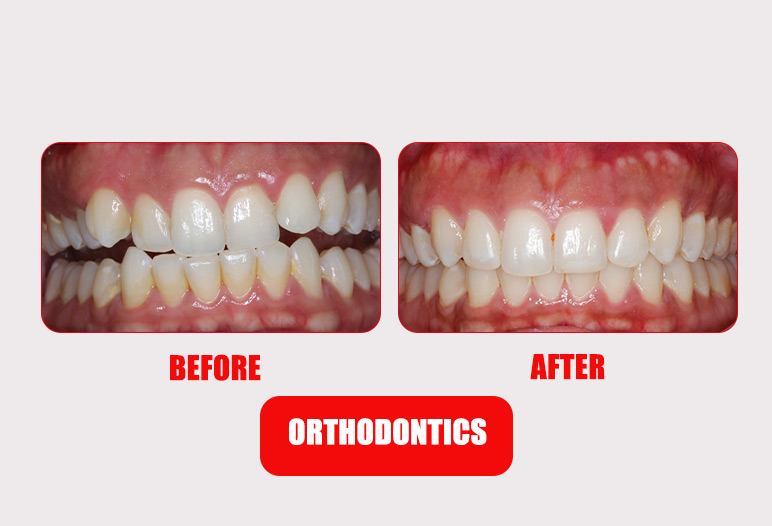 Tooth Filling
Our cosmetic tooth filling service achieves aesthetic and robust results, with a success rate of up to 98%. Notably, this service includes cosmetic filling for broken or chipped front teeth. Following a tooth filling procedure, customers can confidently eat without concerns about the longevity of the filling material.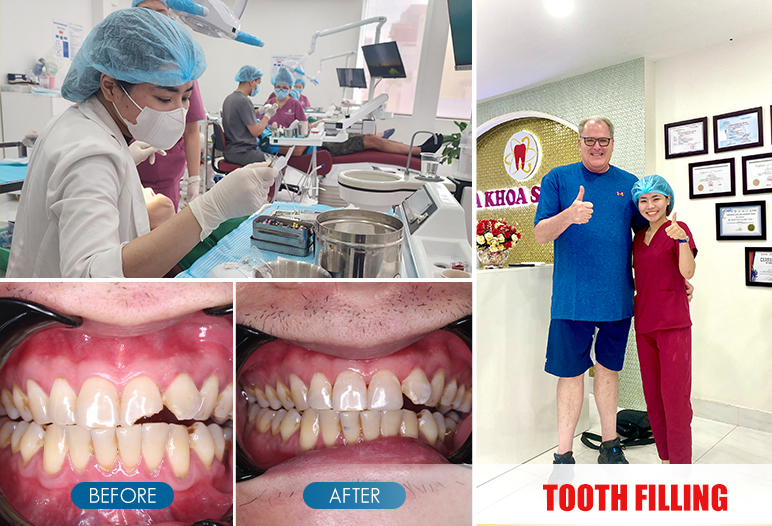 Tooth Extraction
As part of our general dental services, tooth extraction is performed using advanced technology – the Piezotome ultrasonic tooth extraction system. Customers highly appreciate the gentle, swift, precise, and notably painless and discomfort-free process of tooth extraction with this technique. 100% of customers who have undergone tooth extractions here acknowledge satisfaction, erasing any previous fear or discomfort associated with dental procedures.
Root Canal Treatment
Our dental clinic provides comprehensive root canal treatment, maximizing the preservation of natural teeth for our customers. The gentle technique ensures minimal damage to tissues, and the treatment process is safe and meticulously performed according to the standards set by the Ministry of Health. Customers can return home immediately after root canal treatment without the need for post-treatment recovery stays.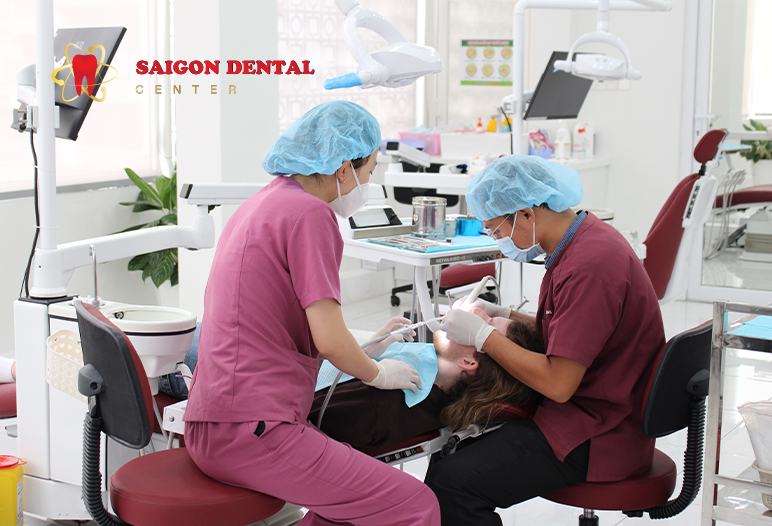 Scaling and Polishing
Our deep scaling and polishing service enhances teeth's brightness and beauty through the use of ultrasonic scaling technology. The process is gentle, taking only 15 – 20 minutes per session. It is entirely painless and does not harm tooth enamel. The cost of scaling and polishing is highly affordable, allowing customers to confidently choose regular scaling sessions every six months.
In addition, our dental clinic offers various other excellent dental services. For detailed information about services and pricing, customers can refer here: 
Saigon Center Dental Clinic boasts a team of experienced dentists with over 15 years of expertise in the field, including accomplished Maxillofacial Dentists well-known in the industry.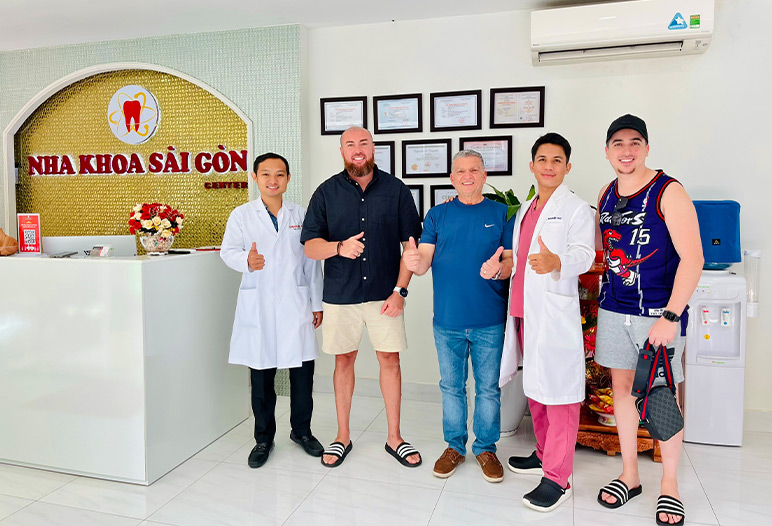 To schedule a consultation or take advantage of special offers at our Dental Clinic, kindly contact our hotline: (+84) 973-199-986 for dedicated assistance!