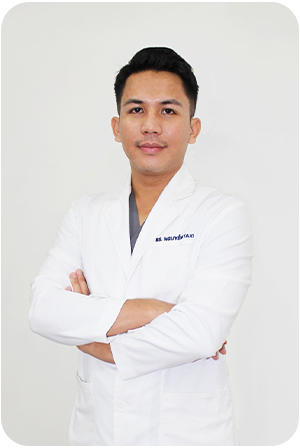 Doctor Nguyen Taxi is an accomplished Maxillofacial Dentist, graduating with honors from the University of Medicine and Pharmacy (CTUMP).
With a strong focus on dental restorations and aesthetic dentistry, he stays abreast of the latest aesthetic trends for the contemporary youth. Dr. Nguyen Taxi excels in crafting beautiful and flawless smiles for his clients, garnering satisfaction from both domestic and international patients who often refer their friends and family to him.
Having accumulated 8 years of experience in studying, general dentistry and aesthetic dentistry, Dr. Nguyen Taxi is also an expert in managing oral diseases, especially non-invasive treatments that yield rapid results.
Expertise
General Dentistry
Dental Restorations with Dental Ceramics
Cosmetic Dentistry
Languages
Education
Maxillofacial Dentist at the University of Medicine and Pharmacy in Ho Chi Minh City
Continuous training certificate in Implantology
Advanced Endodontics Certificate
Aesthetic Restorations Certificate
Participation in aesthetic and dental photography courses
Smiles by Doctor Nguyen Taxi
Patients highly praise Dr. Nguyen Taxi for his meticulous and attentive approach to treatment, ensuring that the smiles he creates are natural, harmonious, and tailor-made for each individual. Below are some successful treatment cases by Dr. Nguyen Taxi that have earned recognition from dental professionals and absolute contentment from patients.