Get on with the trend of world celebrities, and get your sparkling diamond teeth done in Vietnam in just 1 week, for customers who prefer a truly impressive aesthetics and personality.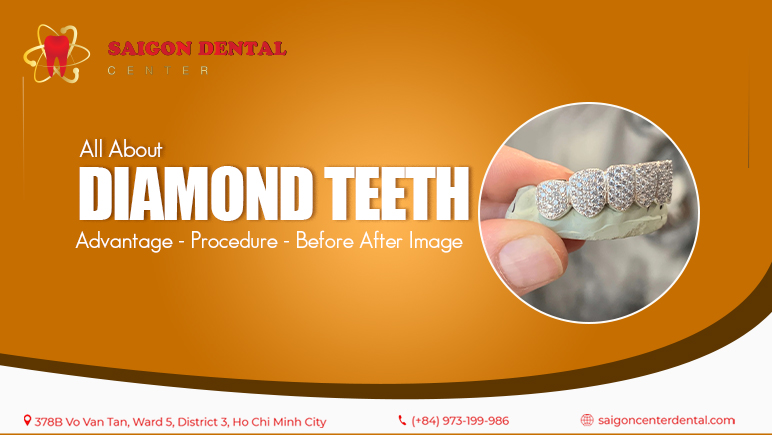 What's about Diamond Teeth?
Diamond teeth is a growing trend in the US following many renown celebrities' promotions. This cosmetic creates an impressive, shiny smile that is full of flair and personality.
Each gemstone when attached to the tooth will bring its own aesthetic value. Precious gemstones, in this case diamonds will be studded on tooth number 4 (canine). This is the most optimal position so that the smile can highlight the beauty and sparkle of the gemstone.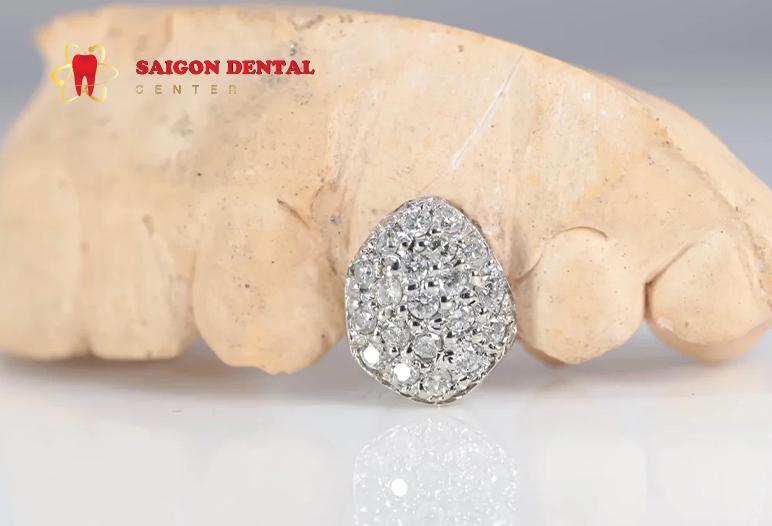 Studding gems on natural teeth, dentures or crowns are methods to achieve the desired look. Diamond teeth are suitable for customers who want to express their personality and style through cosmetic dentistry. However, this method will be optimal in case the teeth are still healthy, have thoroughly treated gum disease, tooth decay, pulpitis; teeth are not sensitive; enamel intact. If attaching diamonds to natural teeth isn't suitable, diamond dentures or crowns can be applied instead. Denture and crown are preferable if your natural teeth are dull, stained, and/or abnormally shaped, …
A diamond crown include:
A frame made of titanium – lightweight, strong and resistant to corrosion.
Outside the metal ribs are studded with Moissanite diamonds. In terms of hardness, Moissanite is 9.25-9.5 Mohs on the hardness scale, stress strength of 7.6 PSI and a refractive index (RI) of 2.65 (diamond is 2.42) for a higher flare and sparkle.
Diamond porcelain teeth are delicately designed and crafted by 3D CAD/CAM technology with precision down to the micrometers to make sure the porcelain crown has a beautiful shape and fits snugly against the real tooth, without any kinks or openings around the gum line.
Diamond crown in only 2 appointments at Saigon Center Dental Clinic
The diamond crown process is similar to the porcelain crown. However, in terms of implementation time, making diamond teeth will need more time, from 5-7 days, while porcelain veneers only need 2-3 days because the manufacturing process requires meticulousness. Besides, to create perfect aesthetics, it is necessary to consider the size, position, shape and compatibility between the diamonds when attached to the crown.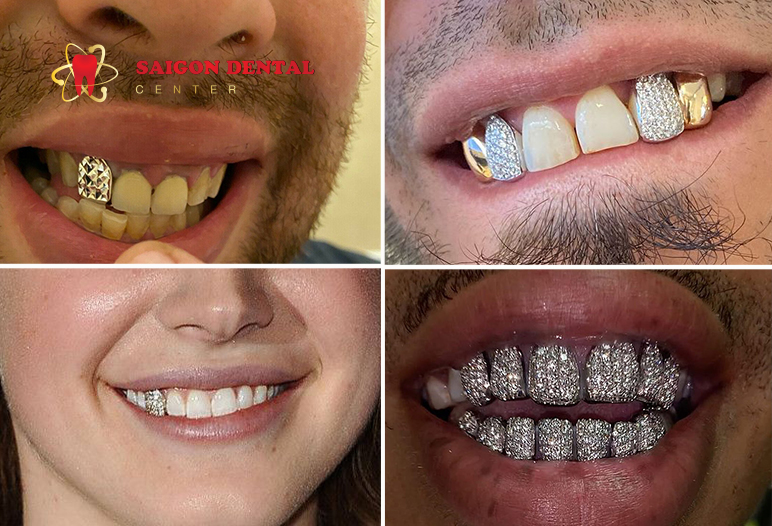 First appointment
Step 1.The doctor will check your oral condition, treat for pathology (if any) and make a plan to have the diamond teeth made.
Step 2. Take an impression of the bite
Step 3. Grind down the teeth to prepare for diamond crowns
Step 4. Attach temporary teeth to use while the diamond crown is being made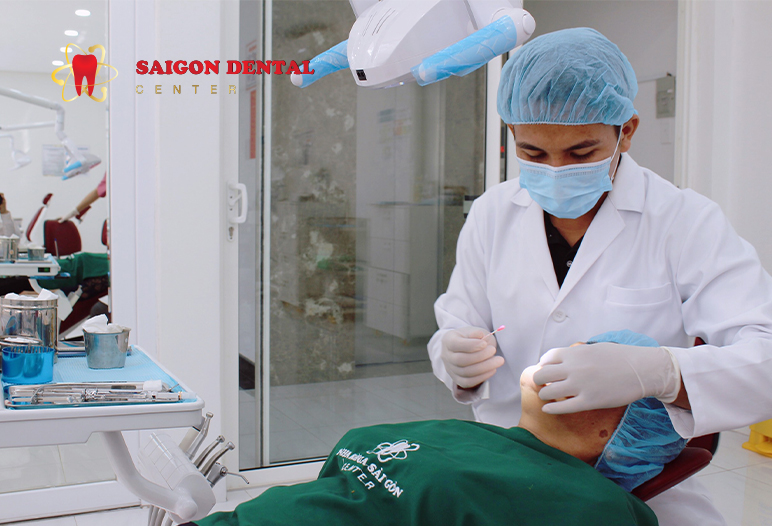 2nd appointment
The newly made diamond teeth are done and attached after being adjusted for a suitable, correct bite.
How much does diamond teeth cost?
The cost of making diamond teeth is calculated including the cost of materials and services rendered by the doctor performing the treatment. The use of artificial diamond teeth, natural diamonds, or Moissanite diamonds will also vary in cost. In general, the current price of diamond teeth starts at $1,000 and can go up to millions of dollars a tooth.
Currently, at Saigon Center Dental Clinic – The clinic specializing in dentures in Ho Chi Minh City, the price of Moissanite diamond teeth is listed at $1,000 /tooth. This is the full service cost and there is no limit to the number of diamonds on the crown.
Saigon Center Dental Clinic – The best dental diamond implant clinic in Ho Chi Minh City
Saigon Center Dental Clinic has more than 15 years of operation in the cosmetic dentistry industry. It is the leading prestigious dental clinic and is trusted by more than 10,000 domestic and foreign customers. Cosmetic dentistry services here are beautiful, immaculate and committed to a long-term warranty policy of up to 20 years of use.
Diamond teeth implant here is done by Doctor Nguyen Ngoc Tan – An implant expert with 15 years of experience, a modern sense of aesthetic, the ability to quickly grasping the wishes of customers thanks to his professional perspective and to quickly give advice on tooth shape, calculate the size, proportion, and position of the diamond so that it is beautiful and complement your facial features.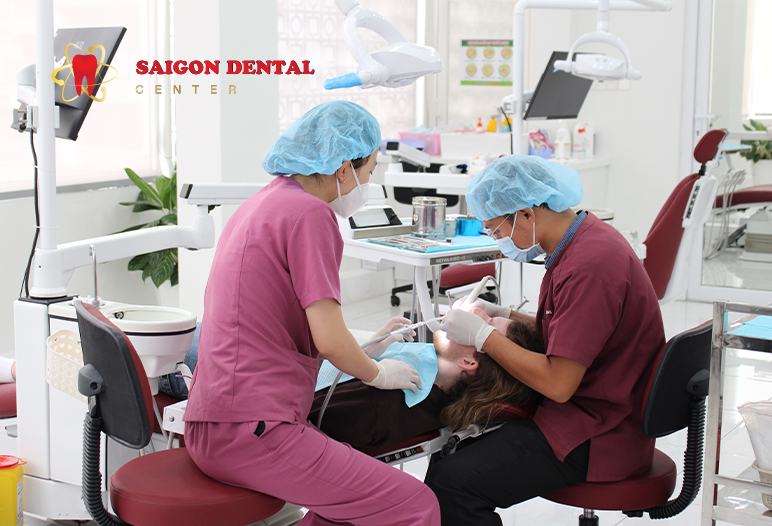 Our procedure for cosmetic dental crowns is modern and follows the 5 guidelines recommended by the ADA –  American Dental Association. The doctor grinds firmly, with correct technique, grinds just enough and safely accounts for biological space. The process of grinding teeth is carried out meticulously with a set of modern imported equipment in combination with the use of high-quality anesthetics to eliminate tooth sensitivity during grinding to provide a comfortable and gentle experience for customers.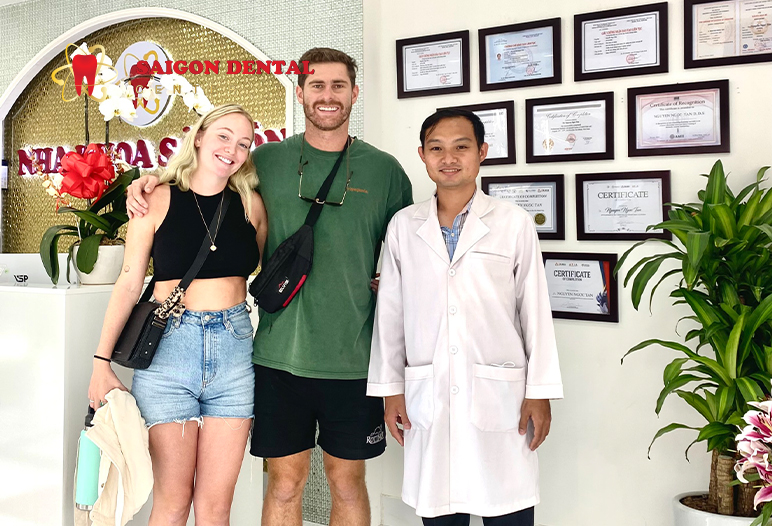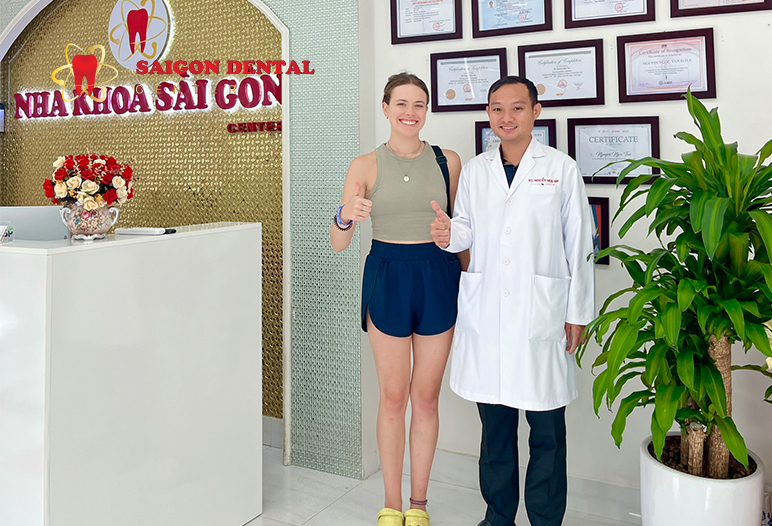 Before and after pictures of diamond teeth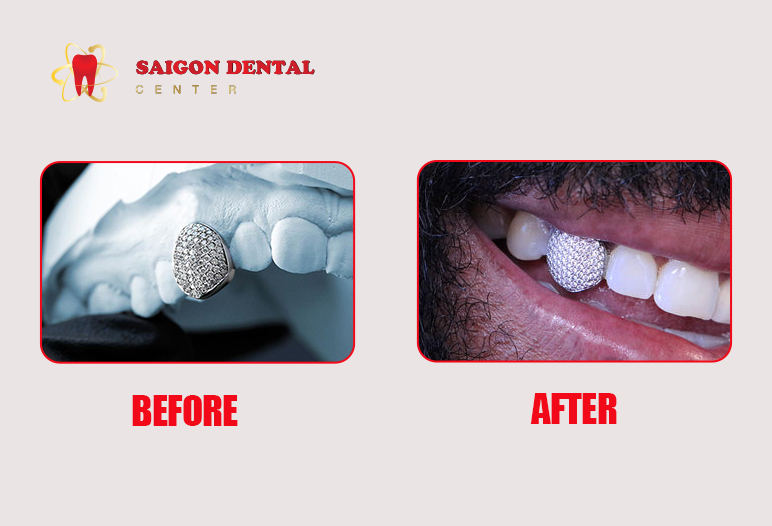 Diamond porcelain teeth are a premier and worthy choice for customers who prefer a high-class and personal aesthetic. To schedule an appointment for a free consultation, please contact Our hotline at (+84) 775-720-450.